Marketers 'Unaware' of FTC Social Media Guidelines Regulating Influencers
Only one in 10 know sponsored posts should be tagged as ads, study finds
Influencers are taking an increasingly large chunk of the digital ad market, and many individuals with hefty, engaged social media followings are charging top dollar to work with brands to spread the word about their products and services.
Guidelines from the Federal Trade Commission (FTC) require sponsored posts on social media to be tagged as ads. However, influencers and content marketers have very different levels of awareness about these guidelines, according to a survey conducted by Lightspeed GMI and Research Now for Izea.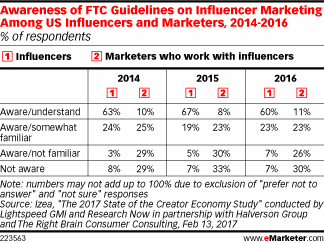 The study found that six out of 10 US influencers polled in September 2016 said they're aware of or understand the guidelines, and another 23% said they're aware of or at least somewhat familiar with them.
Only 11% of marketers reported being aware of or having an understanding of these guidelines, while 23% said they're "somewhat familiar." More than half (56%) of marketers said that they were either not aware of, or not familiar with FTC's policy.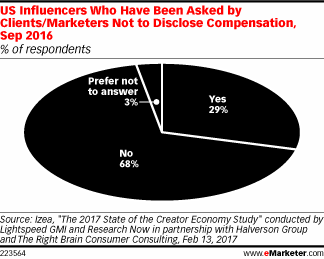 Regardless of awareness, a significant minority of influencers said it's not uncommon for brands to ask them to hide the fact that their post is sponsored.
Three in 10 US influencers in the survey said they've been asked by clients or marketers to not disclose their compensation for a post. As Izea noted in the study, given the delicate nature of the question, it's likely that the number who are compensated may be even higher.
"By not labeling influencer posts as ads, marketers leave themselves open for FTC enforcement. A paid endorsement is a paid endorsement, even if it appears in social media," said Debra Aho Williamson, principal analyst at eMarketer.
Though marketers may fear that labeled posts may not seem authentic, social network users have become accustomed to seeing these types of posts as increasingly more influencers have revealed that they've been compensated for such content.
For example, Bloomberg reported that between July 2015 and July 2016, the number of sponsored posts on Instagram labeled with hashtags such as #ad, #sponsored and #sp jumped from 120,000 to 300,000.
—Alison McCarthy
– See more at: https://www.emarketer.com/Article/Marketers-Unaware-of-FTC-Social-Media-Guidelines-Regulating-Influencers/1015341#sthash.AldS3hrz.dpuf